The Whitechapel Museum Of History Is A Museum In Whitechapel, It Is A Museum Of History Of Whitechapel, When You First Enter There Theres A Statue Of Whitechapels Like Owner Dominick Whitechapel, He Owns The City Of Whitechapel, This Museum Shows Old Pasts From Whitechapel, Theres A Picture On The Wall Of Whitechapel When It Was Just A Little Town On The Wall, And The City Approval Of Whitechapel Is Next To The Picture, Then They Have What Whitechapel Looks Like Now A Big City Is On The Wall, There Is Brochures In The Corner Of The Museum Of Whats New, You Can Take One And Take A Tour Around The Museum, When You Walk In There Is A Big Sign That Says WHITECHAPEL MUSEUM OF HISTORY, The Museum Also Has A certificate Of Whitechapel In A Case In The Conor, Its Golden, It Was Made In 1957, When Whitechapel Was Built, Now A Big City, Whitechapel Has Lots Of Viewing Sights In The Museum, They Have Books Of Whitechapel In There, Next To The Library There Is 5 Computers, Each Computer You Can Search A Book Of Whitechapel And Read It In The Whitechapel Museum Library, And They Also Have Rare Collectables From The Old Days Of Whitechapel, There Is Lots Of Books Of Whitechapel In There, You Can Also Donate A Book About Whitechapel, The Whitechapel Museum Also Has Fosils And Stuff A Regular Museum Would Have, But Mostly Stuff About Whitechapel, The Whitechapel Museum Has Lots Of Stuff For All People From Whitechapel And From Any Other Town, And If You Are In Whitechapel And Find Something Rare In The World Or Whitechapel, You Can Get Free Museum Card You Can Call The Museum And Tell Them You Like To Donate Something, So Easy!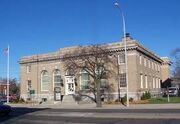 Ad blocker interference detected!
Wikia is a free-to-use site that makes money from advertising. We have a modified experience for viewers using ad blockers

Wikia is not accessible if you've made further modifications. Remove the custom ad blocker rule(s) and the page will load as expected.