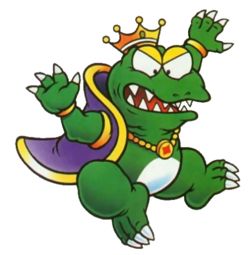 Wart is the main antagonist in SMB2!..this guy trapped and then kidnapped all subcons!...then mario and gang could go in that dream land to save them!..after his defeat!..it's really unknown what happend to him and gang!..but there was a hot rumor that Wart and gang actually are alive after that SMB2!..and could possibly return in later series!...
There's another rumor that This Frog guy and Bowser could reteam to defeat Mario!.....
Wart's Startegy is That This King Frog throws more than 10 bubbles at a time!...
Ad blocker interference detected!
Wikia is a free-to-use site that makes money from advertising. We have a modified experience for viewers using ad blockers

Wikia is not accessible if you've made further modifications. Remove the custom ad blocker rule(s) and the page will load as expected.