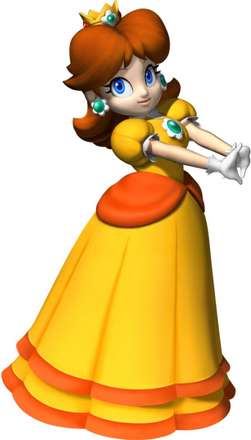 Princess Daisy is a princess from sarasland and saved by mario and the gang when tatanga kidnapped her in super mario land!...There was rumor than she could be peach's sister or cousin!..they were perosnal friends in some games!....Her lover is Luigi! and hates Waluigi!..This is the 1st love tringle in mario series!....This Princess is unlike peach's personality!..She's Tomboy and stronger than peach!..and Loves Flowers very much!..Luigi and daisy are one of the official couples in Mario series

She could return from Sarasland to see peach in later series!...It's really unknown If Princess Peach and daisy have some lines between them or not!..
Ad blocker interference detected!
Wikia is a free-to-use site that makes money from advertising. We have a modified experience for viewers using ad blockers

Wikia is not accessible if you've made further modifications. Remove the custom ad blocker rule(s) and the page will load as expected.