Phinabella Is The Romantic Pairing Of
Isabella
And
Phineas
, Isabella Loves Phineas More, But Phineas Really Doesnt Notice Isabella Liking Him, He Thinks Of Isabella As A Friend He Doesnt Know She Has Love For Him, He Ignores Her Love Messages, Sometimes Dosnt Hear Them, In The 2nd Deminsion Movie Isabella Kisses Phienas Which They Get Zapped With The Amnesia Inator, Which Makes Them Forget The Kiss.
P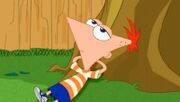 Ad blocker interference detected!
Wikia is a free-to-use site that makes money from advertising. We have a modified experience for viewers using ad blockers

Wikia is not accessible if you've made further modifications. Remove the custom ad blocker rule(s) and the page will load as expected.