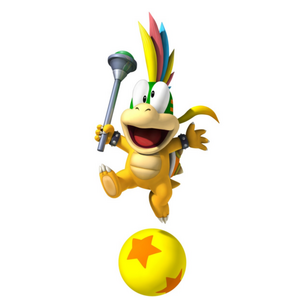 Lemmy Koopa is the second oldest koopaling in family!..he has a ball which is enjoying with his ball!!!...and working at circus!
Lemmy Appeared in SMB3,NSMBW..This little guy's status after NSMBW is unknown but
Dr.Zomboss rebirth Lemmy and his siblings more powerfull in later series!
Later...Dr.Zomboss Rebirth Lemmy along with his siblings!...Then later they defeated!..and it leaves their status Unknown!
He Likes To be with his ball anyway!..and also likes being use this ball when swimming
1-He's the smallest koopaling
2-He's the only koopaling which has a vehicle to ride on
3-In SMB3 he has diiferent ball looking than in NSMBW has!
4-He's one of the 3 koopalings that have same place for SMB3 as NSMBW!..the other two are wendy and larry koopa