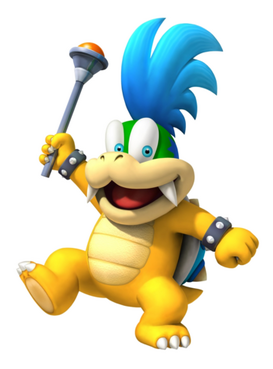 Larry Koopa is a koopaling in Family!....He's Too Funny!..and playing sports such as tennis,batminton,etc......
He appeard of SMB3,NSMBW and unknown life after NSMBW.
but Dr.Zomboss will rebirth larry along with his siblings in later series to take revenge from mike..
in a point of series,Dr.Zomboss Rebirth Larry along with others since 1988!...In 2011!..all of these freezed koopalings and larry were returned after many years!..then later they defeated together!..Larry's status after this is really unknown!
it's rumored that this koopaling has the weakest power in the family!...due to his normal moves!..In SMB3 and NSMBW he has thrown spells at mario and gangs!..
1-he's the youngest koopaling
2-he appeared in 1st world of SMB3,NSMBW as boss
3-It's Really Mistake...Why Larry and ludwig's Hair was White during SMW,SMB3....But they had an blue hair in SMB3 Tv Series,NSMBW.....Their real hair color is Blue!...Not White!