Fender Productions Was The Stage With Preformances By Ke$ha And
LMFAO
Were Seen In The Series On This Stage, The Name Fender Was By The Owner Micheal Fender, He Wasnt Seen, Though Its Known Micheal Fender Died In 1972 He Owned The Company He Was Only 47 In 1972, But Some Guys Take Care Of It From Now On, Micheal Fender Lend The Company To His Son Ben Fender, Who Now Takes Care Of It, His Son Is Now 32 Years Old And The Married Wife Of Micheal Fender Is Still Alive She Is Now 92, She Lives In A Retirement Home, The Retirement Home Is Right Next To The Mental Hospital In The Episode
Mental Home
, Fender Productions Hasnt Been Doing Well, But
Ann
,
Noah
,
Ethan
,
Waffle
And
Steve
Were At Ke$ha's Consert There,
Steves
Grandpa Knows Micheal Fender, Micheal Fender Also Is A Musician In The 40's, 50's, 60's And 1970, 1971 And 1972 Until He Died, He Made Music, One Of His Hit Songs Were, Baby, Baby, Baby Shake That, He Was Number 1 For That Song On Billboard In 1949, Micheal Fender Was Adopted In 1938, When He Was Just A Baby, Most Say Baby, Baby, Baby Was One Of The Most Famous Songs In The Universe, Which Led Micheal Fender To Making Fender Productions.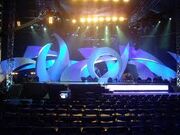 Ad blocker interference detected!
Wikia is a free-to-use site that makes money from advertising. We have a modified experience for viewers using ad blockers

Wikia is not accessible if you've made further modifications. Remove the custom ad blocker rule(s) and the page will load as expected.