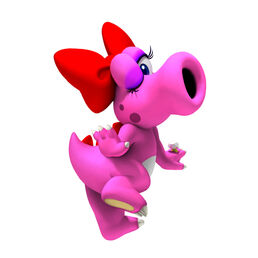 Birdo is a character in the Mario Series. She is playable in some Mario games like Mario Super Sluggerss and you can use her suit in the game Mario & Sonic at the Olympic Winter games. She is a friend of Yoshi's and will appear later in the My Babysitter's a Vampire Spin Off looking and finding Mike and Yoshi. She is freinds with Mario and others.
It was confirrmed later that she's actually a guy and was a dinasour who thinks he's a girl!....Her First Appearnce was in SMB2!...
In the first episode series she was bowser's minion shooting bullet bills and all the things bowser needed to launch Birdo got it done.
Ad blocker interference detected!
Wikia is a free-to-use site that makes money from advertising. We have a modified experience for viewers using ad blockers

Wikia is not accessible if you've made further modifications. Remove the custom ad blocker rule(s) and the page will load as expected.